Appetizer from Japan
Ingredients
50 cc Castillo de Canena Early Royal EVOO
1 tablespoon of sesame oil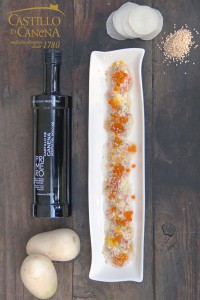 1 turnip
1 crushed egg
1 tbsp. ikura (red salmon roe)
30 cc Onion juice
2 tbsp. Mayonnaise of Castillo de Canena Early Royal & tangerine
1 tbsp. mirin (sweet rice wine, if you don't have it, use Jerez with some sugar)
300 g salmon
1 tbsp. soy sauce
Chive
Sesame
3 tbsp. yuzu (also you can use Pescaviar pearls)
Preparation
Cut the radish into thin slices. Reserve and then rolled to a cylinder and fill or cut into slices, as you prefer.
Chop the salmon with a knife (salmon tartare). In a bowl, place the chopped chives, the mayonnaise made with Castillo de Canena Early Royal & tangerine, the salmon tartare, a tablespoon of onion juice and egg. Mix and reserve.
Sauce
Mix the extra virgin olive oil Castillo de Canena Early Royal with the mirin, yuzu, sesame oil and sprinkle sesame seeds.
Place the preparation over the radish slices and finish with the sauce.
December 2014