Dessert from Spain
Ingredients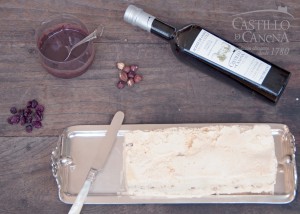 2 tubs of vanilla ice cream
1 tablet of good hazelnut nougat (you can do it at home with sugar and hazelnuts, like caramel and place on a silicone sheet)
1 tablet of black chocolate couverture
Whole milk
Fresh orange zest
Castillo de Canena Family Reserve Arbequino EVOO
Preparation
Let vanilla ice cream melt to work with it.
Crush the hazelnut nougat (guirlache) with the mortar.
In an elongated mould, place a layer of ice cream and hazelnut nougat, alternatevely. Place the mould in the freezer. Remove from the freezer 10 minutes before eating.
Place the chocolate squares with the orange zest and 2 tablespoons of Castillo de Canena Family Reserve Arbequina EVOO in a sauce boat. Add hot milk. Stir until the sauce takes some consistency.
Serve the nougat millefeuille with the hot sauce.
December 2014