Appetizer from Norway 
Ingredients
8 Norwegian salted herring fillets (already washed)
3 dl of cream
Grated horseradish to taste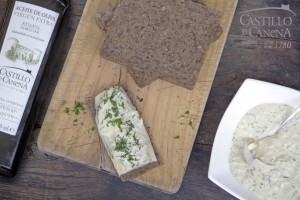 The juice of half a lemon
1 teaspoon of Dijon mustard
1 teaspoon of brown sugar
1 tbsp of Christmas Spices *
2 boiled eggs
5 cornichons (small and slightly sweet gherkins in vinegar)
Chive
Dill
Castillo de Canena Family Reserve Arbequino EVOO
* Mix of Christmas spices:
1 teaspoon allspice beans
1 teaspoon whole cloves
1 teaspoon star anise
1 teaspoon black peppercorns
Preparation
Beat the cream with the rods, after having been in the freezer for half an hour. Grate the horseradish and marinate in lemon juice and two tablespoons of Castillo de Canena Family Reserve Arbequino EVOO for a few minutes before mixing with the cream.
Brown the Christmas spices a little bit in a pan and mash in a mortar or ground with a grinder until they are dust. Mix these spices with the sugar and mustard and add to the sauce.
Cut the boiled eggs and cornichons into cubes and mix with the chopped chives and dill.
Remove the thorns of the herring fillets and cut into thin slices. Dip the fillets in the sauce and keep cold before serving.
Serve over black or brown bread with some lettuce into thin strips.
December 2014