INGREDIENTS
Small colourful burgers bread
Tofu hamburgers
Chopped veal meet
Boiled beets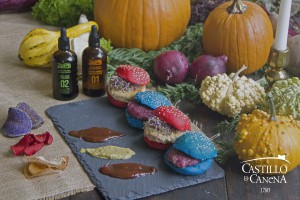 1 clove garlic, minced
Dried oregano
Salt
Pepper
Ketchup Sauce
Soy sauce
Dijon mustard
PREPARATION
– Meat burgers: In the mixer, mix well beets together with the garlic and oregano. Mix the dough well together with the chopped beef afterwards. Make small balls and then crush them in order to have shaped hamburger.
Grill the meat burgers and the tofu ones (bought prepared for cooking).
Lightly toast the mini colourful hamburger breads.
On the other hand, we prepare two sauces:
– Mix ketchup sauce with a few drops of soy sauce and Arbequina&Co 01 to taste.
– Add a few drops (to taste) of Arbequina&Co 02 to the Dijon mustard.
These small colourful burgers will surprise everyone on Halloween!!