NEW PROJECTS AND MEETING OF ALL CASTILLO DE CANENA'S TEAM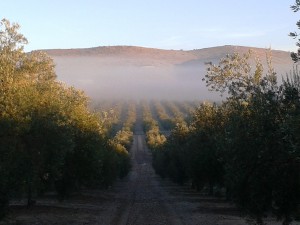 We see no better way to end the year 2014 that with the signature of a new agreement with the University of Cordoba (UCO) in order to develop three new projects in our farm!
Agreement signed yesterday in the morning will last three years (renewable), and it will develope different and very interesting topics related to the influence of the vegetation cover on preserving soil moisture, the influence of certain biological agents in the prevention and remediation of verticillium and prevention of certain infections caused by fungi in the olive. These different topics will be studied in both of our crops: Integrated Production Agriculture (API) and the Organic and Biodynamic Agriculture.
UCO is the most prestigious Spanish University on issues of olive growing, so this Framework Agreement, together with those already signed with the IFAPA, the University of Granada, the UNIA and the University of Jaén, all of them makes us feel very proud and privileged because we are, on first-hand, collaborating on I+D+i of the olive oil sector!
Afterwards, in order to celebrate the agreement and to say goodbay to 2014, all Castillo de Canena's team, including our President, Mr. Luis Vañó, all of us met at the castillo and we shared a delicious meal toghether!
Thank you very much to everyone for your support! Merry Christmas and Happy New Year 2015!
You can enjoy these holidays with our simple Christmas menu!