We want to share a recipe of Borage with potatoes and green beans cream with the special touch of our Early Royal EVOO, made by our friend Concha Bernad from the blog Cocina y Aficiones.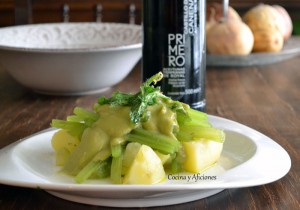 Ingredients for four people:
1 Borage, ½ kg of potatoes to boil, extra virgin olive oil Castillo de Canena Early Royal.
½ kg of green beans, 1 liter. chicken broth, 50 g of butter, salt, pepper, nutmeg and coriander powder.
Borage:
Clean the borage removing leaves and strings, we'll stay with green stems, the nerve center we passed a very clean scouring pad so there are no spikes, cut into 10 cm sticks . We put them in ice water until cooking time.
We will keep heart leaves borage, small. Boil the water, add salt and when it starts to boil add the borage slowly without boiling rupture, between 5/8 minutes, we want it tender but with texture. When is ready, we remove from the pot and turn to get into ice water.
Add water to cook borage potatoes cut into "chunks" the size of a bite, let cook until tender.
At serving time borage we add the potatoes and give them a boil to warm.
The  green beans cream:
Boil the broth when it begins to boil add the green beans cut, let cook until tender, add the pepper, nutmeg and coriander powder, grind until a super fine cream, tagged along and we add the butter, mix and reserve until serving time.
The Leafs:
We fry the leaves in hot oil, half a minute, no more is needed.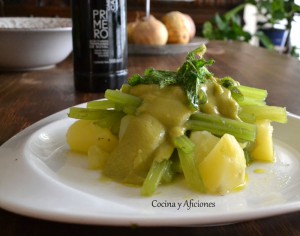 Presentation: 
We place a bed of potato and dress it with Early Royal EVOO over borage and a generous layer of cream of beans and crowned with fried leaves.
April 2016