Ingredients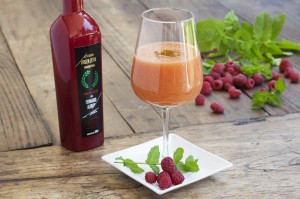 500 gr ripe tomatoes
50 gr cucumber
50 g green pepper
250g raspberries
1 onion
1 clove of garlic
250 ml First Day of Harvest Picual Castillo de Canena EVOO
¼  l Sherry vinegar
Salt
Cold water
Mint leaves
Preparation
Heat to temper Castillo de Canena Extra Virgin Olive Oil and enter lightly crushed mint leaves.
Marinate during several hours.
Wash, peel and chop all vegetables.
Put everything together with raspberries, vinegar and salt in the beater.
Beat again, adding the EVOO slowly. Season with salt and vinegar until it get the taste that you like.
Cool it during several hours in the fridge.
You can serve it in a glass with mint leaves!