Ingredients
Hake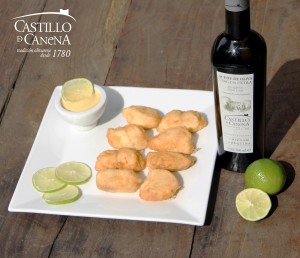 Flour
2 Eggs
EVOO Castillo de Canena Family Reserve Arbequino
Lime
Salt
Preparation Hake
We cut the hake into slices, not too thin. We put the flour on a plate and egg in another and heat extra virgin olive oil in a pan.
We pass the hake slices in flour and then in egg. When the oil is hot, we will put into the pan. Do it for both sides until the fish is golden.
Preparation Mayonnaise with lime
In a narrow blender cup, add a yolk, the lime juice and Family Reserve Arbequino extra virgin olive oil.
Begin beating the yolks at the base of the cup and slowly move upward until the mixture becomes emulsified. Add salt to taste at the end if needed.
April 2015