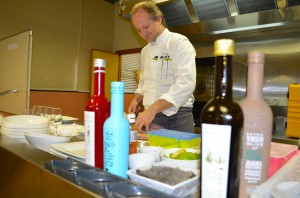 We were fortunate to taste our extra virgin olive oils in the Hotel Management School of Galicia with the Chef Xosé Cannas, from Pepe Vieira (1 Michelin star).
Xosé Cannas explained how he uses Castillo de Canena's EVOO in his different dishes. Students were too much surprised when they discovered that EVOOs can be used in many different ways. After that, we explained what a Extra Virgin oil is, the different types that they could find and how we harvest.
1. The appetizer was a melon one with tagine and our First Day of Harvest Arbequina. A great refreshing snack!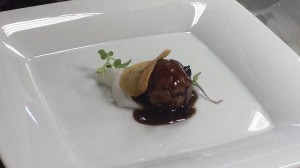 2. The second dish prepared by Xosé was a mackerel with lime, cilantro and our Family Reserve Picual EVOO. He finish the dish with a blowlamp what gave a toasted touch and also, he added some salt and piparras. Simply delicious!
3. The third course were rabbit meatballs with the much appreciated mushrooms called "trumpets of death", emulsified with our Olive Oil Oak Smoked Arbequino. The Chef placed them on a sheet of bacon and finished them with chips and turbacea (a flower that tastes like garlic).
4. Dessert was a liquid gelatin of passion fruit and fruit yogurt, finished with shesuang pepper, sugar and our Family Reserve Arbequino. A real feast for senses!!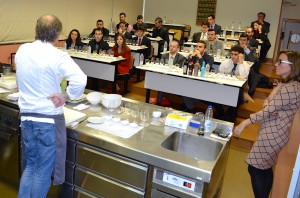 Thank you very much Xosé, it was a pleasure!