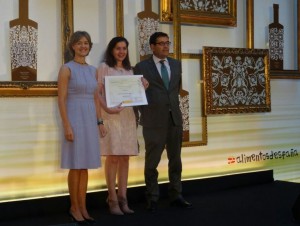 Our Castillo de Canena Family Reserve Picual EVOO as the best Spanish olive oil thanks to the FIRST POSITION in the category "Intense Green Fruity" of the Spanish Food Awards to The Best Extra Virgin Olive Oil (2015-2016) by the Spanish Ministry of Agriculture, Food and Environment (MAGRAMA).
We collected the award directly from the Spanish Minister of Agriculture, Ms. Isabel García Tejerina!
We are very proud to have been awarded one more time with such a prestigious prize as Spanish Food Awards is! This is the third time that Castillo de Canena receives this award!
– Spanish Food Award: "The Best Intense Green Fruity Oil of Spain" (2016)
– Spanish Food Award:  "Food Internationalization" (2013)
– Spanish Food Award: "The Best Agricultural Holding" (2009)
Thanks to all of you for your support!
April 2016