Many reasons to celebrate our selection in the 2016 FLOS OLEI guide!!!
We could not be more proud of the FLOS OLEI 2016 results. In this latest edition, we have been proclamed as "The Best Olive Oil Company in the World", as well we revalidate our position among the international TOP 20 & again we got the highest score (98/98) for our Family Reserve. Three great news that confirm once again the quality of our EVOO!

We collected our award in Rome, directly from  Marco Oreggia & Laura Marinelli, the Flos Olei Guide's authors: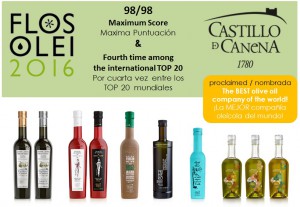 As you know FLOS OLEI by the Italian Marco Oreggia, analyses more than 1.000 extra virgin olives oils produced all around the world. Only the oils with more than 80 points are compiled in a paper book where they are organised by punctuation. This guide is the most recognised internationally.  Castillo de Canena has been in the guide in all of the 11 editions!
We could not have better news!
As always, many thanks to all of you for your support!
November 2015