We want to remember the special French toast by Xanty Elías of Acánthum Restaurant in Huelva. Also this year he won his first Michelin star and continues to trusting on our EVOO!
This is a toast with olive and choco cococha of corvina with which he won the Madrid Fusion contest last year  and with the special touch our extra virgin olive oil  Early Royal.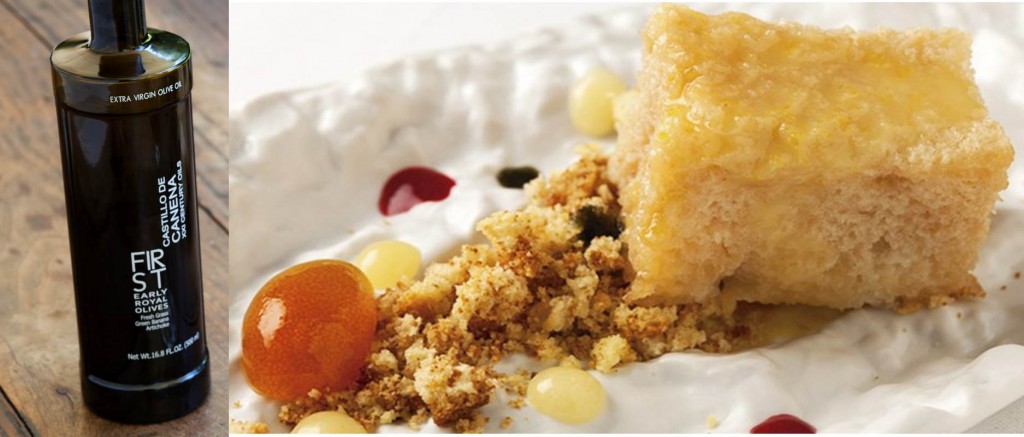 Ingredients
Broth choco
800 grams of fresh choco without skin, liver and overa, 150 grams of green onions, 220 grams of Italian green pepper, Early Royal EVOO, 3 liters of water, 25 grams of liquid caramel.
Olive french toast
200 grams of strong flour, 50 grams of Early Royal EVOO, 75 grams of ice cold water, 50 grams of dry olive, 8 grams of fine salt, thyme leaves, 10 grams of fresh yeast, 25 grams of dough.
Corvina Skin 
Corvina skin, olive oil Castillo de Canena Early Royal, salt.
Emulsion of olive oil and seawater
250 gram Extra Virgin Olive Oil Early Royal, 1 gram of glycerin, 50 grams of sea water, 20 grams of CO2 tablet.
Corvina Cocochas
Cocochas, sliced garlic, chili pepper, cuttlefish ink, Iberian Gill in very thin slices.
Preparation
Broth choco
Anchoring the vegetables into cubes with oil to catch a blond color, add the soaked choco in his liver saute and add the overa.
Take to high heat, add cold water, leave to boiling and kept to a minimum for 1 hour. Filter and reduce to 500 ml. Add the caramel and salt to taste.
Olive french toast
Mix the flour, thyme and salt, make a volcano and adding water, oil, yeast diluted in water and sourdough. Knead until it comes away from sides of bowl or mixer. Let stand for about 30 minutes at about 40 ° C.
The dough will have risen, again more gently knead and shape bar. Ferment for 1 hour at 35 ° C and then bake at 180 ° C for about 20 minutes, depending on the size of the piece. Let cool.
Dicing without rind and fry in plenty of olive oil leaving cool again. Once cool, we get wet french toast with hot choco broth until it absorbs its weight by three.
 Corvina Cococha
Put in the garlic oil to fry slowly sheet, along with the chili pepper (remove when golden brown). Place cocochas up and remove from heat, allow to cool without moving. Relocating to soft fire while moving in circles and make the pil-pil. Add a few drops of ink of cuttlefish cooked to give the black color. Pil pil be mounted when you mahonesa texture.
Remove the cococha with part of the pil pil on paper, in a frozen and cooled in chiller tray. Wrapped in thin strips of Iberian Gill cococha almost frozen and set aside.
Corvina Skin 
Between the two roles put only the skin without fish without scales, a little salt and a little oil. Insert it empty and cook at 80 ° C for 12 minutes. Cut to a size of 10 × 4 cm.
Finishing and presentation
Put on the base skin hot plate candied croaker, hot toast put up side. The warm and liquid cocochas them over with an outbreak of fresh green asparagus. Finish with a small tear of the emulsion Early Royal EVOO. Serve warm and eat as a snack.
Source: Gastronomia&Cia
March 2016