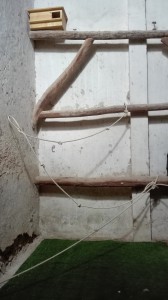 As you know, this 2018 is the year of the Barn Owl. At present many buildings and old buildings where the barn owl was installed to nest, there are serious problems with the avifauna, in this particular case, with the owl, which has suffered a population decline of around 13% in the last decade.
Together with Olivares Vivos, for years we have been carrying out various actions aimed at increasing the biodiversity of our olive grove and, at the same time, the region. Along with our philosophy of maintaining a sustainable olive growing, in which as you know we maintain thanks to Precision Agriculture, we also want it to be compatible with biodiversity, and thus have our own sustainable and friendly production model with the animals that live there. promote that they do it. It is a differentiating added value and one of the most outstanding for our company, which we have been defending since 2012.
In the case of the barn owl, we are carrying out and are going to carry out, monitoring of the biodiversity (bird censuses, monitoring of arthropods, composition of herbaceous coverings …); restoration of unproductive areas (woody plantations, herbaceous plantings, ..) and in addition, concrete actions to improve the availability of substrates for nesting (nest installation, bat shelters, placements of innkeepers, …).
In these last days, we have made the owl hacking, which is used to raise the small owl chickens, which gradually will be incorporated into nature. Specifically, 4 chickens with 30 days of life were introduced in a hacking box. As the photos show, it is a cabin where they are introduced and where they are fed, so that they have no contact with man (eat 2 mice / day each chick!). In about 15 days, the chicks will have plumage and as the cabin is open, they will begin to make small flights, returning to "their house" to eat. The outputs will be this way, increasingly frequent and this is a method to promote its reproduction.
We leave you a picture of the adorable chickens and the hacking! We will keep you informed!!
Many thanks for your support!