INGREDIENTS
400g boiled chickpeas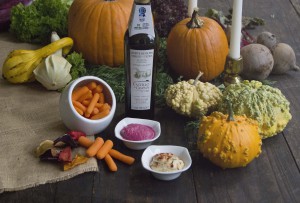 2 cloves garlic
2 tablespoons tahini (sesame paste)
Juice of half a lemon
Extra Virgin Olive Oil Family Reserve Picual
Pinch of cumin powder
Salt
Paprika
Toasted sesame seeds
*2 boiled beets & cream cheese for the "halloween hummus"
PREPARATION
Place in the mixer the boiled chickpeas, garlic, tahini and lemon juice. Slowly, add a string of extra virgin olive oil Family Reserve Picual Castillo de Canena.
Add salt to taste.
* If the mixture is too thick to beat, you can help yourself with some milk.
Finish with few drops of the same EVOO and sesame seeds.
** If you want to cook a special hummus for Halloween, when grinding the ingredients, add 2 boiled beets and 2 tablespoons cream cheese; and dispenses with garlic, cumin and paprika!
Serve with fresh peeled baby carrots, nachos and vegetable chips … a scary dip!