Our commercial director, Rosa Vañó, will participate as a representative of the olive sector in the First National Business Forum 'Agroprofesional Women'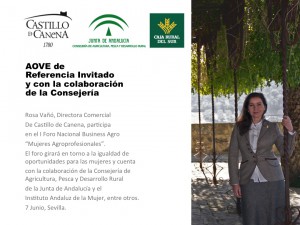 The objective of the forum is to give visibility to the work of talented women present in the agri-food sector. It will be celebrated next June 7 in Seville and will participate more than 200 women and men, managers, professionals, and entrepreneurs of the entire agro-food chain in an intense day of conversations, experiences, motivations and aspirations, with the  purpose of promoting a space for dialogue and networking, which will include presentations, dynamic and innovative gatherings and interviews. Women's leadership as a tool for equal opportunities and representation in the agri-food sector, entrepreneurship and innovation will be the axes around which the meeting turns.
The Forum will be moderated by the scriptwriter, producer and director of social cinema, Mabel Lozano, and the journalist Agroalimentario Cesar Marcos, will start at 9.50 hours and will be inaugurated by the Andalusian Councilors of Agriculture, Fishing and Rural Development, Carmen Ortiz, and from Equality and Social Policies, María José Sánchez.
It is an honor to be a part of this initiative which has the collaboration of the Ministry of Agriculture, Fisheries and Rural Development of the Junta de Andalucía and the Andalusian Women's Institute, as well as the Caja Rural del Sur Foundation, Agro-food Cooperatives Of Spain, FEPEX and the Association 5 AL DÍA.