HUMMUS & HUMMUS WITH CURRY
It's a quick and healthy snack for those who want to "dip" with friends at home or just while wathing today's football match, but in a very healthy way 🙂
INGREDIENTS
– 400 gr of cooked chickpeas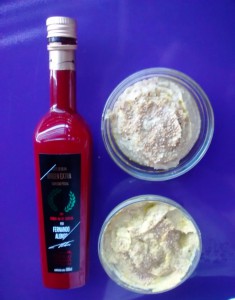 – 1/2 lemon juice
– 1 clove of garlic
– Sesame
– Some water
– Curry
– Carrots, celery and nachos
– First Day of Harvest Picual EVOO
PREPARATION
We roast the sesame seeds in a pan. Part of them, will be used in hummus itself and the rest will be for decorating.
We put in the mixer chickpeas, lemon juice, garlic clove and some First Day of Harvest Picual EVOO.
Beat well and let's add some water, as you need, but remember that it must be a sufficiently thick mass in order to achieve our goal … to dip!
If you want to try the brave version, leave a portion of prepared hummus and add a bit of curry (to taste) … now we have both versions!
Just serve them in a bowl and decorate them with some toasted sesame seeds and a drizzle of the same EVOO  that we have used for the hummus.
Cut carrots and celery into sticks! We can also buy some nachos, for those who prefer this choice.
Hope you like it!
June 2014