While we are waiting for the Magi, who have a long travel tonight… we can prepare a simple appetizer in order to whet your appetite …
Ingredients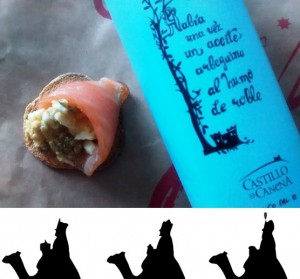 Boiled egg
Capers and gherkins
onion
And let's choose between: Family Reserve Arbequino EVOO or Oak Smoked Arbequino Castillo de Canena
Preparation
We just have to chop all ingredients very small and mix in a bowl. Then we will finish with the olive oil that we had chosen. Today we have decided to use our Oak Smoked Arbequino.
This is a perfect side dish for a good tartare or carpaccio of salmon, cod or any other raw or smoked fish… well… also you can eat it directly on a toast!
Hope you like it! Happy Night!
January 2015