We are so happy! We have been awarded with the most important official Olive Oil Award worldwide! This is the Mario Solinas Award, organized by the International Olive Oil Counsil (IOC), where our Family Reserve Picual EVOO has achieved the maximum award !!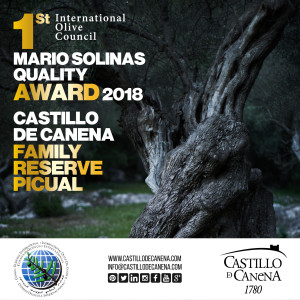 The official international prize Mario Solinas, prize for quality in particular, is organized by the IOC and has the maximum international prestige. In this edition, in which our already awarded Picual Family Reserve has been in the first position in the category of intense fruity, have been presented 189 oils from different countries around the world, including Brazil, China, Croatia, France, Greece, Italy , Morocco, Portugal, Tunisia, Turkey and 97 from Spain … so it is an honor to represent Spanish oils since we are the only Spanish EVOO that has been in 1st position in the contest!
The award will be delivered on June 20 in New York, during the Fancy Food gastronomic show in the same city.
The IOC is the only international intergovernmental organisation that under the auspices and tutelage of the United Nations is dedicated to regulate and control the entire world sector of Olive Oil and its various categories.
We are very proud with the results of this year. Thank you very much to all the team of Castillo de Canena that has made it possible and to all of you for your support!