Appetizer from France
Ingerdients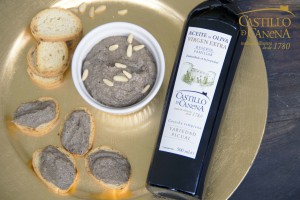 250 g of pitted black olives.
5 anchovies (without oil).
1 clove of garlic (without seed)
2 cloves of garlic (peeled and optionally, cutted to half)
2 spoonfuls of pine nuts
½ spoonful of capers (clean and without liquid)
125 g Castillo de Canena Family Reserve Picual EVOO
Lemon juice
Pepper
12 slices of bread (5 cms)
Preparation
Place the olives, the anchovies, the garlics, the pinenuts and the capers together and grind well. With the motor still turning on, start pouring Castillo de Canena Family Reserve Picual EVOO.   Continue grinding to get a dense mass , no too much liquid. Add lemon juice and pepper. Don´t add salt. Keep on the fridge well covered.
Introduce the slices of bread on the oven rack and toast them during 2 minutes to every side. Lightly painting with Castillo de Canena First Day of Harvest Picual every side. Once, the slices are out, when they are still hot, rub garlic in one of the sides.  Then, leave it to cool.
Serve the toasts with Arbequino mashed olives (tapenade).
December 2014