We present these Halloween Muffins made with our Family Reserve extra virgin olive oil specially to share on these days.
THERMOMIX TIME: 10 MIN
OVEN TIME: 10MIN
TOTAL TIME: 20MIN (200º)
INGREDIENTS FOR 24 UNITS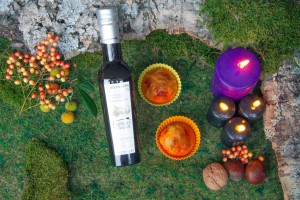 3 eggs
30g of milk
50g butter at room temperature
50 ml of Family Reserve Arbequina EVOO
100g flour
1 teaspoon baking powder
1 pinch of salt
Spicy sausage or sausage into small pieces
Oregano
2 heaping teaspoons grated Parmesan at the time
1 dried tomato, chopped
2 anchovy fillets, chopped
PREPARATION
1. Preheat oven to 200 ° C.
2. Putt the eggs in the glass and set  3min/ 37º/ speed 4.
3. Add milk, olive oil Family Reserve Arbequina and butter into small pieces and set  15sec / speed 3.
4. Add the flour, baking powder, salt and oregano. Set  5sec / speed 3. Finish mixing with the spatula. Pour into individual moulds or capsules 35mm Ǿ muffins.
5. Distribute over the 12 muffins bits of tomato and anchovy pieces with the help of a stick, dip them in the dough. Sprinkle muffins with  oregano.
6. Distribute above 12 muffins bits of sobrassada or chorizo using the dip stick in the dough. Sprinkle with grated Parmesan
7. Bake for 10 minutes at 200 ° C.  Remove from oven and serve.
Enjoy!!
If you want more ideas for halloween take a look to our MENU IN ORANGE
October 2015