Two of our olive oils have been awarded as the best in the world at the International OIL AWARDS by  Der Feinschmecker in Germany!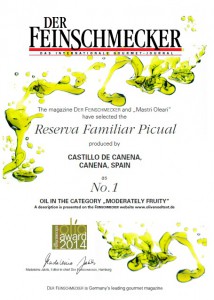 Germany's leading magazine for culinary lifestyle, DER FEINSCHMECKER (about 100,000 copies sold each month), provides an important platform for olive oil for the 12th year running. No other magazine in German speaking countries focuses on this healthy and tasty foodstuff in such a thorough way!
The international jury, which consist of experts from Germany, Italy, Spain and the USA & some of the best chefs from Germany,  they have tasted and judged the oils using a professional criteria.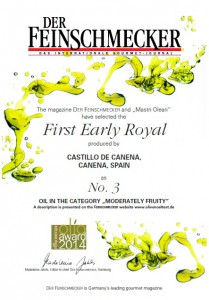 They have tasted approximately 750 olive oils from every continent; it is the biggest olive oil test of this kind in Germany! So we are especially happy that our EVOO have won two OLIO AWARDS in this competition!
– No.1 for Family Reserve Picual Castillo de Canena: the best in the world as "moderately fruity"
– No.3 for Early Royal Castillo de Canena: the third in the world in the same category "moderately fruity"
Thank you!!