Happy OBON! On our last visit to Japan we had the opportunity to taste an exquisite menu in the restaurant Kiyamachi of the great chef with 2 Michelin stars Roan Kikunoi in Kyoto.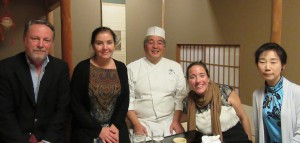 It was a surprising and full of new flavors evening, we loved that the talented chef joined our extra virgin olive oils to ancestral flavors of Japanese food. A challenge solved perfectly and left us quite impressed!!
Her we share some of the dishes we tried:
Appetizers
Sake with fragance of yuzu
Demitasse of yuba (soymilk skin), pickled sea cucumber entrails, dried sea cucumber ovaries brunoise.
Smoked salmon camellia flower sushi, cod roe terrine, rape, lotus root stuffed with mustard, salad of sea cucumber and turnip, Karasumi (grey mullet roe) rolled in squid, Miso-marinated Tofu.
Sashimi
Fugu (pufferfish), chrysanthemum petals and milt of fugu with extra virgin olive oil Family Reserve Arbequina, truffle, rock salt, chive. (It is interesting to note that in order to cut the blowfish chefs have to make a special course, because this species contains poisonous and not knowing prepare parts, risk of poisoning runs).
Steamed
Guji (red tilefish) steamed with grated kabura (turnip), wood ear mushroom, lily bulb, Mitsuba-herb, fresh Uni (sea urchin), gingko nut, wasabi
Grilled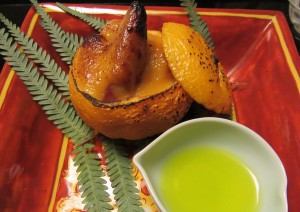 Salad
Yamatoyaki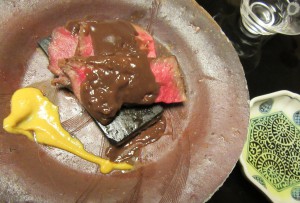 Rice
Dessert
Many thanks to the chef Roan for the attention!
Let's toast with sake to be repeated soon!