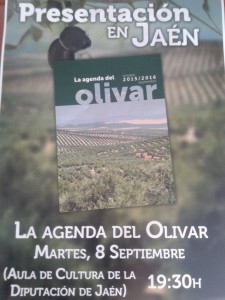 Today "The Olive Grove Agenda" is presented in Jaen (19:30, Aula de Cultura de la Diputación de Jaén). Asensio López, editor of  The Agenda, will be joined by the president of the council, Francisco Reyes and our CEO, Francisco Vañó, who has collaborated in the composition of some articles.
This Agenda, which will be a helpful tool for the industry, will help also consumers to understand the EVOO's benefits and properties and understand the harvesting & collection timing.
We encourage you to keep checking our last news and progress in our olive grove!
September 2015