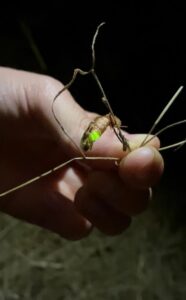 On the International Day of  Fireflies and, as another action to stimulate the biodiversity of our ecosystem and recover species in danger of extinction, in Castillo de Canena we have created the project "Olivares de luz" (Olive Groves of Light) in cooperation with Professor Jose Ramon Guzman Alvarez of the University of Cordoba.
The goal is to reintroduce fireflies in our olive groves and create special protection areas where they could live and reproduce undisturbed. The massive use of pesticides had almost put an end to the presence of these interesting and magical insects in all the fields of Andalusia, when 50 years ago they were easily found on summer nights. Now we can see again these little luminescent beings running through our olive groves again like fascinating living candles.
We have installed night cameras to capture nightly images of fireflies in different parts of our field. The ones we publish have been taken on the banks of the Guadiana Menor river next to the centenary olive groves of the Pago de la Condesa… How wonderful!
*Check complete video: https://www.youtube.com/watch?v=IatMUxM4Fqs&feature=youtu.be