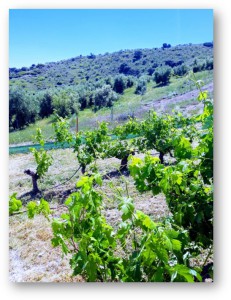 Faced with an increasingly wounded Planet, we will not tire of reminding you of the importance of preserving the Rural Landscape, the result of the interrelation of Climate, Relief, Soil, Fauna and Flora of a given property, betting on a Responsible and Sustainable Agriculture.
We also contribute to the creation of a Mediterranean Landscape. More than 2500 years ago, the so-called "Mediterranean Triad" was born there, featuring the three main agricultural products that were cultivated in the entire basin of the said sea during the period of Phoenician and Roman permanence, such as cereals, vines and olives, which provided their peoples with the main food: bread, wine and olive oil.
We are recreating this traditional symbiosis with the planting of a few vineyards of the Garnacha and Petit Verdot varieties, in addition to those already existing on our estate: pre-phylloxera and Tempranillo varieties.
In this way we continue to be involved in biodiversity and the balance of the ecosystem. These new islands of biodiversity allow us to favour shelter and food to diverse birds already present in our olive grove such as red partridge, common kestrel, common cogujada, cogujada montesina, common pardillo, triguero bunting, common turtle dove, It also allows us to attract other species that are not currently present, such as the common lark, Montagu's harrier, kestrel, kestrel or sandgrouse.
All these measures based on Responsible and Sustainable Agriculture allow us to carry out a biological control of plagues, restore the balance in the ecosystem, favour the entomofauna of the soil, increase the existing species of birds and more biological diversity in our plant covers. All this will result in more complex and surprising fruity AOVES.
If you want to know more about our reforestation projects: