We always highlight all the benefits that the extra virgin olive oil brings to our health. Extra virgin olive oil is an effective natural moisturizer for the skin, thanks to its high content of vitamins E and K that can help us to prevent the premature aging of our skin.
Today we want to share with you 2 options to take advantage of these evoo properties!
Peeling
You need:
How to apply:
Once prepared your peeling of brown sugar and Castillo de Canena Biodynamic Picual EVOO, moisten your face (or the part of the body that you want to exfoliate) with warm water . Then apply the peeling that we had prepared before, and spread it very softly.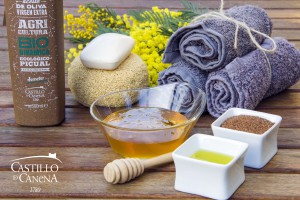 Nutritional Mask
You need:
How to apply:
Place honey and  Biodynamic Picual extra virgin olive oil in a bowl. Stir with a spoon until you have a homogeneous mixture. You can add more or less EVOO, depending on how much light you prefer your mask.
Apply it by performing a gentle circular massage over the desired area. Leave 15-20 minutes and rinse.