And why not give our Christmas an exotic touch?
Let's make unique moments! We are travelling to Asia!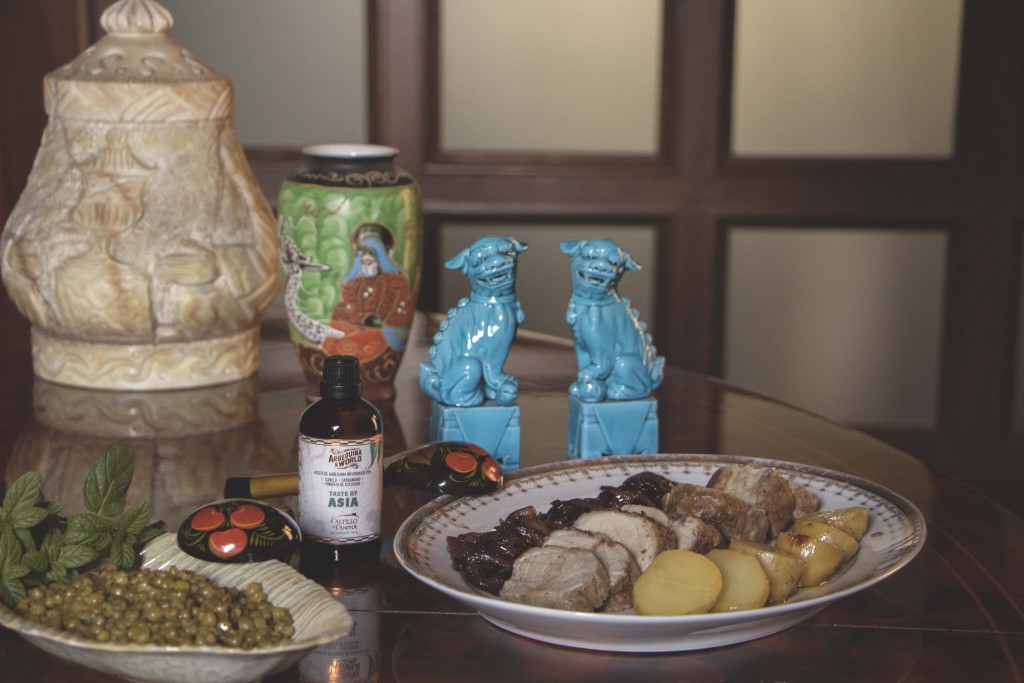 INGREDIENTS
1 pork tenderloin
2 sweet onions
Brown sugar
Red wine
Salt
Pepper
Arbequina & World Asia (99.5% Extra Virgin Olive Oil Arbequina Castillo de Canena + Cinnamon, cardamom and Szechuan pepper.)
PREPARATION
Season the sirloin and seal in a pan with some EVOO. We could take it like this or finish it a little more in the oven for a few minutes. In any case, after overn or not, we will finish the sirloin with a few drops of our Arbequina & World Asia that thanks to its exotic spices will give it a very warm touch.
On the other hand, we will finely chop sweet onions. We will caramelize them with some brown sugar and red wine in a pan.
We will serve everything together with a couple of side dishes that will also end with our olive oil Arbequina & World, to make a very healthy and complete meal… and with a lot of legitimate aromas that will make something very simple at once very special because they will allow us to travel throughout the world:
Garnishing of sauteed peas and potatoes baked with Asia
INGREDIENTS
Cooked or frozen peas, Family Reserve Arbequina EVOO, Arbequina & World Asia, salt
PREPARATION: sauté directly peas in a pan with a pinch of salt and our EVOO Family Reserve Arbequina. Finish your dish with a few drops of Arbequina & World Asia
Garnish with roasted potatoes
INGREDIENTS: baby potatoes, Arbequina & World Asia
PREPARATION: roast potatoes in the oven until they are well done. They can also be given a cooking stroke previously, so that they take less time to roast.
At the moment of serving, finish with a few drops of Arbequina & World Asia
Let's complete the trip! See all Christmas recipes with Arbequina & World