PRAWNS CEVICHE & 4 GREENS: LIMA, MINT, GREEN APPLE & EARLY ROYAL
Ingredients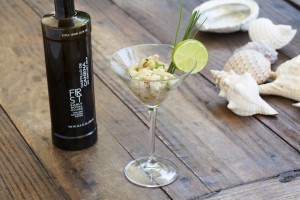 4 limes
300 g fresh prawns
2 green apples with skin
Fresh mint
Chives
Early Royal EVOO Castillo de Canena
Preparation
Peel the prawns and remove the black thorn in the back.
Let prawns marinate in the juice of 3 limes during an hour and a half in the fridge, covered.
Chop the apples with the skin, the fresh mint leaves and grate the skin of one of the limes. Mix together with a little bit of lime juice, tabasco, salt and the shrimp already marinated (drained).  Allow to cool. Do not use the liquid maceration of the ceviche.
Slice the last lime ​​with skin,  we will use to decorate.
Place ceviche in a cocktail glass and add some Early Royal Castillo de Canena olive oil above. You can place a slice of lime and 2 or 3 sprigs of chives in order to decorate it.
Delicious!! We hope you like it! 🙂
September 2014