Ingredients
1 leek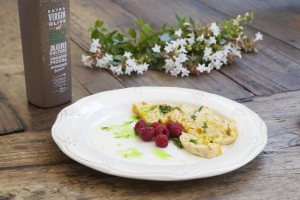 1 courgette (zucchini)
1 carrot
1 onion
1 clove of garlic
200 gr. prawns
4 eggs
200 ml ideal milk
Ingredients for the vinaigrette
Biodynamic Picual EVOO Castillo de Canena
Dill
Salt
Preparation
Chop the leek, courgette (zucchini), carrot, onion and the garlic, very small.
Sauté whole unpeeled prawns. Remove them and in the same pan, sauté the leeks first and then, the rest of vegetables.
Peel the prawns.
Beat eggs, then add the ideal milk. Beat again, and add the vegetables.
Pour the mixture into a greased mould and place in a water bath for 20 minutes, until it is just set.
Prepare a vinaigrette with our Biodynamic Picual  Extra Virgin Olive Oil, dill and chives. Add salt to taste.
September 2014