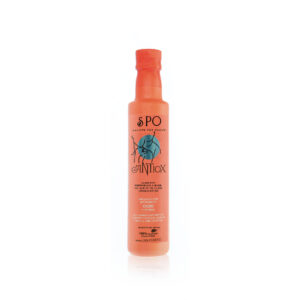 SPO (Salute per Oleum)
Food based on Arbequino Extra Virgin Olive Oil with Coenzyme Q10, a compound with great antioxidant capacity that protects the body against free radicals, responsible for cell aging.
Enjoying and taking care of your body is more than a double pleasure. SPO Antiox is based on Arbequina Extra Virgin Olive Oil enriched with Coenzyme Q10 and vitamin E, both of which have a high antioxidant capacity. Coenzyme Q10 protects our body from free radicals, which are responsible for cellular ageing. Although it is found naturally in our bodies, its levels decrease over the years.
SPO Antiox will provide you with a large part of your daily requirement of these bioactive compounds, both Q10 and vitamin E, protecting your cells against oxidative damage.
DESCRIPTION
SPO Antiox is part of the Castillo de Canena range of functional products. The acronym SPO corresponds to the SPA concept, "Salute per Aquam", applied to the world of Extra Virgin Olive Oils, thus giving rise to "Salute per Oleum". These are products of very high nutritional value, very healthy, enriched and adapted to new consumer trends. In this range, always elaborated with our 100% natural, sustainable and organic EVOO, you can also find  The SPO Nosotras, SPO Inmunóleo and SPO MI Primer Aceite.
ADDITIONAL INFORMATION
SPO Antiox is for the whole family, but especially recommended for people at risk of cardiovascular disease and those concerned about ageing due to sun, stress and pollution.
Minimum daily amount: 15 ml of oil provides 50% of the recommended daily amount of both bioactive compounds.