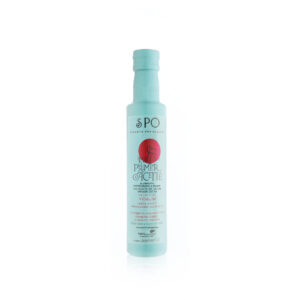 SPO (Salute per Oleum)
Food based on Arbequino Extra Virgin Olive Oil enriched with VIDALIM Omega-3 DHA and rosemary extract.
SOURCE OF OMEGA-3 FATTY ACIDS.
HIGH CONTENT OF MONOUNSATURATED FATS.
HIGH CONTENT IN UNSATURATED FATS.
At Castillo de Canena we wanted to create a product specially designed to meet the needs of the youngest members of the family. SPO Mi Primer Aceite not only brings together the healthy benefits of an organic extra virgin olive oil, but is also enriched with VIDALIM Omega-3 DHA. This docosahexaenoic fatty acid, found naturally in breast milk and other foods such as oily fish, is essential for proper neural, psychomotor and visual development in the first years of life.
Adapted to children's palates, it provides a perfect nutritional source to enrich their menus. The base is an early harvest Arbequina EVOO, i.e. made from olives harvested at the optimum moment, ensuring an even more delicious flavour and aroma.
DESCRIPTION
SPO Mi Primer Aceite is part of the Castillo de Canena range of functional products. The acronym SPO corresponds to the SPA concept, "Salute per Aquam", applied to the world of Extra Virgin Olive Oils, thus giving rise to "Salute per Oleum". These are products of very high nutritional value, very healthy, enriched and adapted to new consumer trends. In this range, always elaborated with our 100% natural, sustainable and organic EVOO, you can also find  SPO Nosotras, SPO Inmunóleo and SPO Antiox.
ADDITIONAL INFORMATION
Numerous studies also show that DHA, with which this oil is enriched, provides benefits in the case of diseases such as attention deficit hyperactivity disorder (ADHD).
Recommended for babies and children from 1 year of age.
The WHO (World Health Organisation) recommends at least 250 mg of Omega-3 per day.