INGREDIENTS
Purple potatoes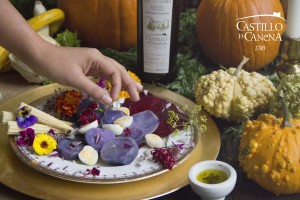 1 Beet
Quail eggs
Cabbage sprouts
Edible flowers
Purple Onion
Baby corncobs (optional)
Provencal herbs
EVOO Castillo de Canena Family Reserve Arbequina
PREPARATION
Boil the potatoes with their skin until they are well done. Boil the quail eggs until they are totally boiled.
Once cooked, peel the potatoes and eggs. Halve. Reserve.
Finely chop the onion.
Assemble the dish with buds, flowers, potatoes and eggs. If you want, add some sliced beets and baby corncobs.
Sprinkle with chopped red onion.
Finish with a vinaigrette made from the Provencal herbs & extra virgin olive oil Family Reserve Arbequina Castillo de Canena.