INGREDIENTS
3 egg whites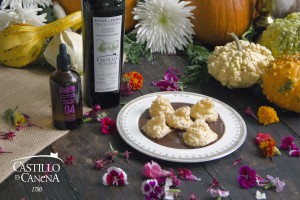 1/4 teaspoon cream of tartar (natural stabilizer)
Black chocolate couverture
Milk
Icing sugar (the same weight as egg whites)
PREPARATION
Beat the egg whites to form peaks. At the first whipping, add some cream of tartar and then, gradually, add the icing sugar until the mixture is firm.
Add 30 drops of Arbequina&Co 04 olive oil stirring with a fork. Then, make form of kind of big snowflakes with a pastry bag.
Place the small meringues in the oven during one hour and a half, (oven with low temperature 100ºC; until hard).
Heat some milk in the microwaves and melt the black chocolate while stirring vigorously. Add some Family Reserve Arbequina extra virgin olive oil Castillo de Canena and mix well.
Serve the chocolate soup on the bottom of the dish and the small meringues ghosts on it.