Here a renowned Mexican recipe as the guacamole is! And we decided to highlight its tomato flavours by adding few drops of our premium olive oil First Day Harvest Picual… amazing!
A special touch for such a special recipe! It's one of the recipes that we have made in collaboration with Pulaa accessories. As you already know, this brand supports the development of certain Mexican and Colombian communities. On this occasion, you can see that the delicious guacamole is accompanied by three models of Oaxaca line handbags.
INGREDIENTS
2 avocados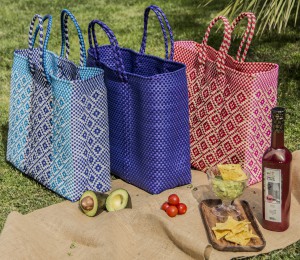 1/2 onion
1 tomato
1 chile
½ lime
Fresh coriander
Salt
Nachos
First Day of Harvest Picual EVOO Castillo de Canena
PREPARATION
Peel tomatoes and chop them together with the onion and a little bit of coriander and chile. Chop very thin.
Peel avocados and, with a fork, mash the pulp in a bowl. Add a tablespoon of lime juice and a pinch of salt if desired.
Then, add a couple of tablespoons of our Castillo de Canena First Day Harvest Picual extra virgin olive oil and mix all ingredients. If you want a finer texture, you can also put in in the blender.
Present with some nachos and … such a quick & easy snack!
* Check here all Mexican and Colombian recipes that we have developed in collaboration with PULAA, the brand of handmade and ethnic accessories originating from Colombia and Mexico communities.