Perfect for both classic and avant-garde recipes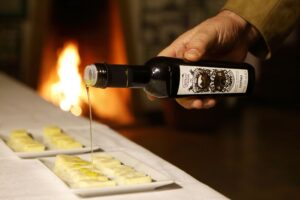 The new Arbequino Amontillado is perfect for seasoning a wide range of dishes and raw ingredients, from the simplest to the most elaborate.
"Thanks to its organoleptic properties, this new Arbequino Amontillado is great for pairing with a wide range of dishes and recipes, from the most classic to the most innovative", Rosa Vañó said.
This makes for an extraordinary pairing with:
Salted and baked fish.
Grilled and baked poultry and pork.
Raw, tinned or pan-fried clams, cockles, oysters, etc.
Raw and sautéed mushrooms.
Grilled foie gras, partridge pâtés and meat pies.
Mojama, ling roe and mullet roe.
Fried and roasted almonds and olives.
Dark chocolate and nuts.