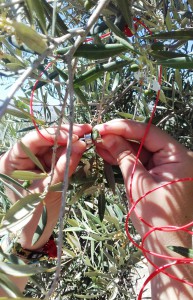 We keep moving in Precision Agriculture that allows us to produce our recognized extra virgin olive oils of the highest quality!
Thus, we have just incorporated the ZIM Water Sensor Probe, a probe that gives us continuous non-invasive measurement of the turgor pressure of the olive trees. This measure is directly related to the growth and productivity of the olive tree. Therefore, now we can measure the level of hydration of the olive trees leaves.
The information provided by the probe can be monitored in real time via Internet. It allows us to adjust watering time and the amount of water supplied. The probe takes information from the ambient temperature and humidity, and considers the phase of the olive tree (from start to hardening of the bone).
The experimental trial consists of 5 repetitions (5 olive trees) with two sensors per tree, 2 temperature and humidity sensors for the microclimate & a soil moisture sensor. This data, combined with our experience in watering will generate a reduction of 20-30% of the water used & it will improve the quality and the health status of the plantation.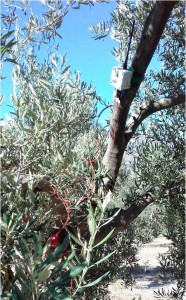 As you already know, sustainability is one of our core values. Follow this link if you want to see more information about our latest developments!!