Great news! Our commercial director, Rosa Vañó, has been selected as a candidate to be part of the Top 100 of Women Leaders in Spain. In 2013, she was chosen one of the Top 100 and this year she repeats her candidacy for the 5th time in the ranking.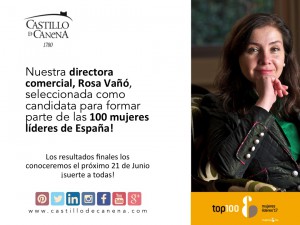 The Top 100 Women Leaders in Spain aims to recognize the talent of women who develop their activity in Spain, have influence and economic, social or business power but do not always have the visibility or recognition of their male counterparts.
In each edition the number of candidates proposed reaches the thousand, of which the Top 100 is selected as follows:
80 women are chosen by the jury.
10 women are elected by Mujeres & Cía.
10 women elected by the public through online voting
The event will be held on June 21 at the Repsol Campus which once again dresses up for this tribute to female talent.
Good luck to all!