We want to share with you an easy and healthy recipe by the great gastronomic journalist and author of numerous books, Mª Jesús Gil de Antuñano. It is a light and dietary salad with an interesting composition in vitamins, minerals, antioxidants and essential fatty acids.
LIGHT SALAD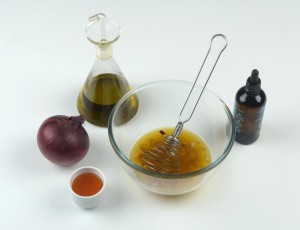 Ingredients for 4 people
1 bag of sprouts salad, 2  Golden Apples, 1 white celery, 50 gr. chopped walnuts, 2 medium carrots, 100 gr. smoked cheese, 1 avocado, 1 tomato.
Dressing: 1 red onion, 1 tablespoon sugar or honey, 8 tablespoons extra virgin olive oil Arbequina, a few drops of Arbequina&Co 03 with cardamom, tangerine and apple, salt, pepper.
Preparation time: 30 minutes.
Calories: 540.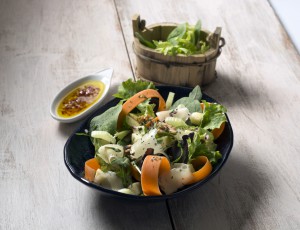 Preparation
Wash, drain and spin salads. Peel the apples and cut into cubes, peel the avocado, remove the bone and cut into wedges. Remove the crust to the cheese and cut into thin strips or slices.
Scrape the washed carrots and cut into strips with potato peels. Remove the strings celery and cut into slices. In a bowl mix all ingredients and add the chopped nuts.
Dress the salad with the dressing before serving.
Dressing: Dissolve sugar in vinegar or honey, mix with chopped onion, salt and pepper and add the oil and drops of Arbequina&Co 03  and remove.
May 2016