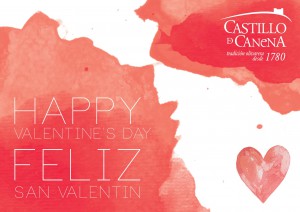 Legend says that in 270 AD, the Roman Emperor Claudius II forbid the union of love in marriage. This emperor believed that a man would be better soldier if he wasn't married and had no family, because he would have fewer responsibilities.
However, there were many young men whose greatest desire was to join his beloved. Therefore, to weigh the unjust ban, Valentine kept close to lovers and kept secret marriages, fulfilling the dream of these young couples.
When the emperor heard Valentine's disobedience, ordered to jail him. Later, he decided that he should be executed, action that took place on 14th February of that year.
Since then we celebrate Valentine's day, a day in which love is all around! And we think that the best way to celebrate this day and celebrate love is with a special menu, that's why we  propose to you the following one. Enjoy it!! 
Appetizers:
Cocktail of avocado, prawns & citrus sauce
Main Curses:
Lamb chops with mint sauce and baked potatoes with rosemary
Dessert:
Strawberries with chocolate sauce and chile
Have a LOVEly day! 🙂
February 2015