Great event at the  Six Senses Hotel in Phuket!
The chef Christian Sturm-Willms* (Michelin Star) from Yunico restaurant in Germany made a tasting menu together with the chef Walter Butti in charge of the  The Hilltop Reserve restaurant in Thailand!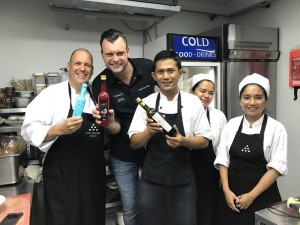 Both restaurants: Yunico in the city of Bonn, an exquisite japanese restaurant that mixes japanese tradition with modern influences, and The Hilltop in Phukhet, that marvels with its spectacular views over the sea and traditional thai cuisine, worth a visit!
Thanks to this event, we had the opportunity and privilege to taste the best of the japanese and thai cuisine dressed with our
extra virgin olive oils
!
We share with you some of those fantastic dishes: