The Family Reserve Arbequina wins the Sofi Gold Award in its 39th edition, held at the Summer Fancy Food Fair in Washington DC.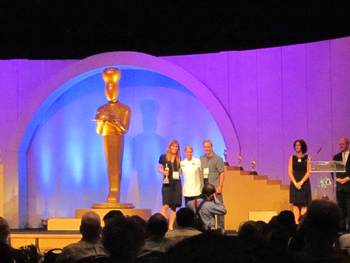 The Family Reserve Arbequina just rise tonight with the SOFI Gold Award, the most important gastronomic award in US. The brand from Jaén, España is the first Spanish oil that wins the Gold in this competition, with 39 years of history, which is similar to the gastronomic Oscar.
The Arbequina oil of Castillo de Canena, with fruity  taste with hints of green apple, grass and almond, highlighted in this difficult international contest on two finalists oils: a Californian oil and a Sicilian one.
The SOFI every year awards the exceptional quality of drinks and food from around the world, this edition had the record of 2,326 product entries, of which 125 were finalists and only 33 winners with Gold in each of the different categories. The ceremony, called the red carpet, was held yesterday afternoon at the fair Summer Fancy Food of Washigton DC, directed by the famed American chef Cat Cora.
Castillo de Canena, is in more than 40 countries, celebrates this recognition will boost its sales in the United States, a priority for olive oils high-end destination.  The company, which began in the North American country in 2005 works closely with the main chain of gourmet products American, Williams Sonoma; and many other gourmet shops, restaurants and luxury hotels in the country.
More information:
About Sofi Award: http://www.specialtyfood.com/
About Castillo de Canena: https://www.castillodecanena.com e info@castillodecanena.com