What better way to celebrate Saint Patrick's Day than with a good sirloin accompanied with a delicious bearnaise sauce made with our smoked oil.
Ingredients:
• 1 steak per person
• 2-3 tbsp of Castillo de Canena oak smoked oil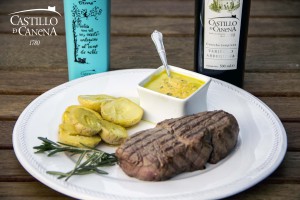 • 1 tbsp of 1 nely chopped onion
• 2 tbsp of cold water
• 1 tbsp of parsley
• 4 egg yolks
• 1 tsp of corn 5 flour
• 75 g. of butter
• 75 g. of Family Reserve Arbequina EVOO
• The juice of half a lemon
• Salt and pepper
• 3-4 tarragon leaves
Preparation:
Meat:
Rub the Castillo de Canena oak smoked oil onto the meat, then fry the steaks on all sides until the
meat is sealed on the outside and juicy on the inside. Add the salt.
Béarnaise Sauce:
Melt the mixture of butter and Castillo de Canena oak smoked oil in a saucepan over a low heat without boiling. Once the mixture has melted, keep to one side.
In another saucepan, gently fry with Family Reserve Arbequina extra virgin olive oil the very 1 nely chopped onion (brunoisse) for two minutes with the vinegar, then add the water and lemon juice, the egg yolks and a touch of corn 5 our with the tip of a knife.  Stir with a wooden spoon and place the mixture in a Bain Marie. To do that, place the pan in another larger pan with water, and then heat so that the pan with the yolks gets hot but is not in direct contact with the hob.
When the sauce starts to thicken, remove from the Bain-Marie and gradually add the liquided butter
and smoked oil mixture, stirring constantly as you would with mayonnaise. Once you have incorporated allthe lique1 ed butter and oak smoked oil mixture, and when the sauce is thick, add the parsley, salt and tarragon.
Happy St. Patrick's Day!