Ingredients: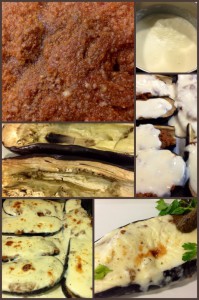 3 aubergines
500 ml semi-skimmed milk
50 g Corn flour
Sea ​​salt
2 or 3 Tablespoons of Biodynamic Extra Virgin Olive Oil Castillo de Canena
Freshly ground pepper 5 colors pepper just milled
50 g Butter
Minced beef
1 chopped onion
100 g Parmesan cheese
300 g Bolognese Sauce or tomato sauce
Preparation:
– Prepare a bechamel with the milk, butter and corn flour. Let stand.
– Wash aubergines and cut lengthwise in half, remove the green part and place them in the oven at 200ºC during 20 minutes.
– Remove aubergines from the oven. Take the flesh of the aubergines and chop it.
– In a pan with a tablespoon or two of Biodynamic Extra Virgin Olive Oil, add the chopped onion. Leave browning.
– In the same pan, add aubergines flesh cut in very small pieces. Later, when flesh is hot, add the bolognese or tomato sauce.
– Place aubergines in a baking tray and fill them with the preparation of the pan. Cover them with the bechamel first and afterwards with the parmesan cheese. Bake it for 10-15 minutes and… enjoy it!!
This recipe was published at Alejandra Feldman's webpage www.cocinaconencanto.com Thanks! 🙂
July 2014