Among the Colombian recipes that we have developed together with the humanitarian handbags Pulaa (in the pic, one of his Wayuu handbags line, made in Colombia), we present a fast, simple, very healthy and refreshing salad ... also a perfect as snack if you accompany it with some nachos or tortillas!
INGREDIENTS
1 can of beans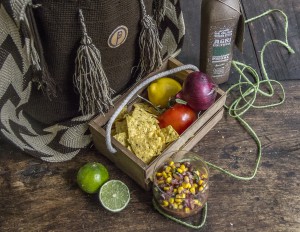 1 can of sweetcorn
2 red tomatoes
1 red onion
1 lime
Fresh cilantro (optional)
Nachos or tortillas
Biodynamic Picual Castillo de Canena EVOO
PREPARATION
Peel the tomatoes and cut them into small cubes. In the same way, cut the onion and, if desired, some fresh cilantro.
Drain the sweetcorn and wash it a little bit with water. With beans, we can drain completely or keep some juice from the can. Mix all ingredients and add the juice of half lime (approximately). Finish with Castillo de Canena Biodynamic Picual extra virgin olive oil. Mix well.
It's ready! This is such a versatile recipe that you can use as side dish or as snack with some nachos or corn tortillas!
* Check here all Mexican and Colombian recipes that we have developed in collaboration with PULAA, the brand of handmade and ethnic accessories originating from Colombia and Mexico communities.