We share with you a very nice and fresh summer cocktail which do not leave anyone indifferent because it has a secret ingredient … Arbequina&Co 02 olive oil!!
In the photo you can also see two original Wayuu bags (by Pulaa) from La Guajira (Colombia). They are made of resistant cotton and in bright colours by a local cooperative from Maicao, a small town on the border between Colombia and Venezuela. Pulaa fights for the development of these communities through its bags and accessories.
Both of them, the cocktail & bags are perfect for this summer!
INGREDIENTS
3.5 cl Tequila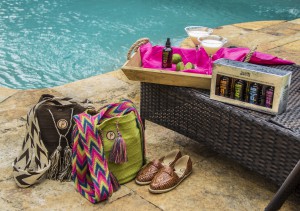 2cl Cointreau
Limes
Ice
Egg white
Castillo de Canena Arbequina&Co 02 olive oil
PREPARATION
First of all, put the cups into the refrigerator to keep them cool when we'll serve.
We will do a double beat. The first beat with tequila, cointreau, lime juice and a bit of egg white in the shaker. Add 25 drops of Arbequina&Co 02 olive oil (remember that is 95% of our Extra virgin olive oil Arbequina + natural essential oils of lemon, fennel and mint). Close the shaker and beat.
For the second shake, add a few ice cubes to the cocktail shaker together with the mixture, and beat again.
Take the cups from the refrigerator and decorate the edge with salt and lime juice.
Now… serve and enjoy!