INGREDIENTS
1 cup sugar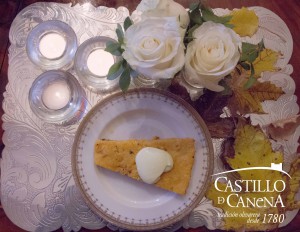 1/2 teaspoon nutmeg
1/2 teaspoon cinnamon
Pinch of salt
500 g of cooked pumpkin
50 g of Extra Virgin Olive Oil Castillo de Canena Family Reserve Arbequina
3 beaten eggs
1 cup and a half of milk
1 teaspoon of lemon juice
Lemon zest
Sour cream (creme fraiche) 1 jar
2 teaspoons of Castillo de Canena Family Reserve Arbquino EVOO
 PREPARATION
Cook the pumpkin, previously cut into small pieces until it is tender, during 30 to 40 minutes aprox. Drain well and crush like a puree.
Add the rest of ingredients and mix well.
Put the mixture into a shallow container and place in the oven at 160 degrees for about 40 minutes.
On the other hand, mix the sour cream (creme fraiche) with 2 teaspoons of Castillo de Canena Family Reserve Arbequino EVOO.
Serve each slice of the cake with some of this cream.