The prestigious chef of Sofitel Jeremy Cayron visited our castle to check by himself the quality process followed by our EVOOs, and brought a delegation from the BBC Food in Budapest with him !!!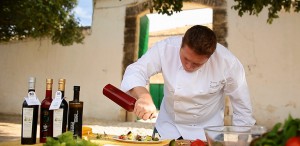 Cayron Jeremy has worked many years with Castillo de Canena and is delighted with our extra virgin olive oil (especially with the Family Reserve Picual!), so that even a few years ago we customize a label with his signature to his hotel in Budapest.
During his visit to Canena, the French chef visited the castle and estates and he had time to prepare one appetizer with Mediterranean flavor. We leave the link to video so you can watch it!!
February 2015