Partridge pate canape with onion & our EVOO Family Reserve Picual
Ingredients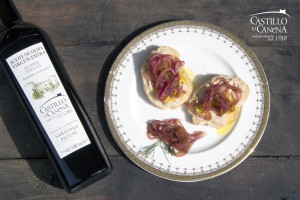 Partridge pate
Bread
Sweet onions
Sugar
Pedro Ximenez
.Preparation
Caramelize the onions in sweet Pedro Ximenez. To do this, cut the onions and heat them in a saucepan with Pedro Ximenez. When almost the wine is reduced, add a little sugar and cook a few more minutes.
Meanwhile, cut the bread into slices and roast. Then we spread the toast with partridge pate.
Now, garnish with the onion and finally ended up with our Extra Virgin Olive Oil Family Reserve Picual.
.June 2015