In the middle of an heat wave but we have already started to prepare the new harvest for, controlling scientifically different parameters and using the latest technology. All this will help us to keep our trees perfectly healthy and hydrated, and thus, we will be able to obtain extra virgin olive oils (EVOO) of the highest quality. It is  Precision Agriculture!
The optimization of water resources and the use of fertilizers in agriculture is essential and necessary for environmental and economic sustainability of farms and a key objective to achieve market competitiveness.
– Indicators of climate (wind speed, precipitation, humidity, temperature, photosynthetic capacity …)In Castillo de Canena we implemented in 2009 a total of nine control stations fully equipped with:
 – Indicators of soil (measuring humidity probes)
– Field data (measurement of new sprouts, number of fertile flowers …)
– Indicators of plant (dendrometers measuring perimeter of the trunk)
These control stations allow us to understand the real time physiological status of the olive trees and its needs.
Specifically, they allow us to determine when and at what dose we have to implement the fertilization and phitosanitary treatments. Thus, the commitment Castillo de Canena has with the environment is guaranteed.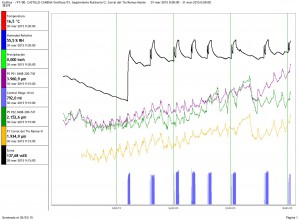 This image shows the process of photosynthesis. The yellow, green and purple lines represent dendrometers. These lines have daily saw teeth, influenced by increased perspiration as the day progresses (trunk diameter decreases), and the decrease of the same in the evening (when the trunk grows).
As shown, for example, from March 9 to March 23, these lines tend to grow due to water and fertilizers. It is important that acquire more slope, that means the tree will increase its level of reserves, which will directly influence the flowering.
The black line shows the average moisture in four depths (10cm, 30cm, 60 cm, 90 cm), and therefore, the degree of water absorption from the roots. This level of moisture increses when it is watered, hence the pulses is related to irrigation (blue line).
May 2015