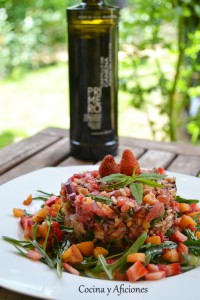 Dressing:  4 loquats,  4 strawberries ,  ½ red onion, 8 chillies, 50 cc . Royal Olive Oil Castillo de Canena, 1 lemon juice, salt
– Chop  loquats, strawberries, onions and chillies in small pieces. Save in a bowl.
– Add salt, Royal EVOO and lemon.  Move all together and let it marinate in the fridge for a while.
Rice: 200 gr. wild rice, half a lemon, 2 cardamom pods, 1 bay leaf,  ¼ onion
– Wash the rice with cold water
– Place it in a saucepan, and cook it with a pinch of salt, onion, bay leaf, two slices of lemon and cardamom
– Once cooked, remove and cool it.
To finish : 100 gr. tuna in oil, 1 tomato, 1 sprig lemon verbena,  few leaves of arugula, salt, pinch of sugar, Royal Olive Oil Castillo de Canena
– Drain tuna completly
– Peel and chop tomatoes very small, add a pinch of sugar and salt and a some Royal EVOO. Let stand. Before serving,  put it in a colander to drain all the juice.
Assemble:
– Mix all ingredients in a bowl. At serving time, add a drizzle of Royal Olive Oil.
– Decorate with strawberries, loquats, arugula and lemon verbena.
–  You can put the rest of  dressing in a bowl separately.
Concha Bernad, author of this successful recipe for spring or summer, also suggests assembling this salad as a real cake in her blog "Cocina y Aficiones"! Check it out: http://www.cocinayaficiones.com/2014/05/arroz-salvaje-vinagreta-nisperos-fresas-receta-paso-a-paso/